"Poetry and Art together, performing a Duet"
The Collaborative Works by Poet Suzanne Bruce and Artist Janet Manalo





Her Visions Her Voices

Throughout history, women's voices have had long and difficult struggles in their journeys to be heard. Sisterhood is not just a trendy buzzword. It is a necessary and powerful tool in which collective experiences heighten women's plights to be heard in all global societies.

Intellectually and creatively, we identify with the dynamic power of women's insights. This collection of art and poetry "duets" honors the beauty of the mind as well as the soul.

We believe in learning from women who have paved this path we now walk. Through our Visionsand Voices, represented by our contemporary ekphrastic expressions, we hope to help widen this path into an artistic avenue.

This 103 page book,
with 40 poems and
40 full color
works of art, may be
purchased for $20 USD
(tax included)

Contact Suzanne

Or Use PayPal

"Her Visions Her Voices brings together the visual and verbal from a female perspective and with female energy. The ekphrastic poems personalize their accompanying visual objects with emotional subjectivity, giving life to the material and concreteness to the abstract.
Bruce's diverse and colorful poetics present common, daily experiences imbued with contemplative possibilities. We can enjoy reflective, meditative nuggets addressing desire, death, struggles, uncertainty. We chuckle at the playful politics, and we sigh at the traumatic events featured in several poems. We apprehend the personae's encounters, identify with the personae's sentience, and celebrate with the personae's resolutions. A collection we will visit repeatedly for renewed agency and inspiration."

Marjean D. Purinton, Ph.D. Affiliated Faculty, Women's Studies; Professor of English, Texas Tech University


"When realized successfully, the collaborative process is a rewarding experience. Janet Manalo, an exceptional artist, and Suzanne Bruce, an equally exceptional poet, execute this from a contemporary perspective.
The notion of being able to paint a picture with words demonstrates an incredible degree of insight; to visually describe an existing image and/or object, by means of poetry, is an awe-inspiring feat.
Her Visions Her Voices took me on a memorable journey down a path I will visit again and again. The poems are wonderfully constructed, and the artwork is visually compelling."

Robert-Jean Ray, Artist/Exhibition Coordinator/Art Instructor; Northern California
September 26, 2017

Connecting Your
Inner Muse Through
Art & Poetry
Workshop

Jessel Gallery
1019 Atlas Peak Rd
Napa, CA 94558





The Jessel Gallery in Napa provided an inspirational setting for the interactive workshop led by Poet Suzanne Bruce and Artist Janet Manalo. The event provided guests with an opportunity to explore the Art of Ekphrasis ~ POETRY inspired by art and ART inspired by poetry !


Collage by Dawn Ramm


Collage by Theresa DeCarli



Collage by Donna DeWeerd


Poetry by Donna Deweerd

Poetry by Kathleen (above)


Collage by Kathleen Patterson


Collage by Janet Manalo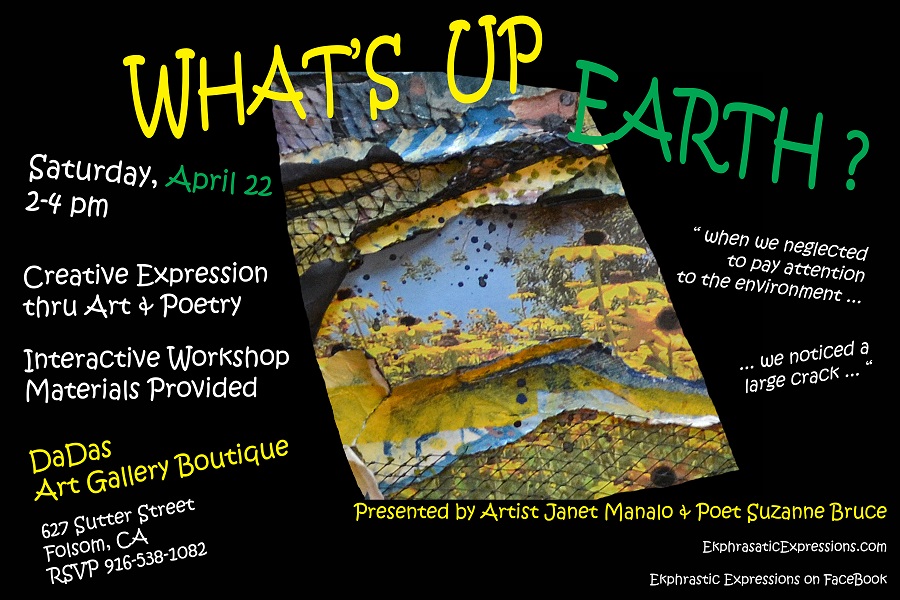 Earth Day Ekphrastic Experiments !
January 13 - February 25, 2017

"The Art of Ekphrasis"



Exhibit in the WestPark Workshop Gallery,
Blue Line Arts. 

Saturday, January 21, 6-8:30pm: Opening Reception. 

Blue Line Arts

,

 405 Vernon Street, Suite 100

,

 Roseville

,

 CA 95678


Suzanne Bruce will be exhibiting her ekphrastic poem "The Fantasy of the Corporate World".
Janet Manalo will be exhibiting "Glass Ceiling" in the group exhibition at Blue Line Arts.

"... Wide eyes essential to survive, somewhere

there must be a key ...."
---
St. Helena Public Library, October 2016 ~ Traditionally, ekphrastic poetry is written to a specific piece of art after the art has been completed. Poet Suzanne Bruce and artist Janet Manalo take a different, contemporary approach. Their work, Ekphrastic Expressions, embodies the ancient form of art and poetry, celebrates the union of the two but also reflects their individual, creative journeys.
Join us for this reception and talk, where Suzanne and Janet will discuss their process and their second book.
Suzanne and Janet met in 2002 and began their collaborative adventures in 2005. Their first book Voices Beyond the Canvas was published in 2007. Their recently published second book, Her Visions Her Voices, identifies with the dynamic power of women's insights.
Suzanne enjoys the process of experimenting with words to express feelings through poetry. Writing that does not have a set meaning, which allows for personal experiences to the reader, best describes her intentions. To move the reader beyond what is expected is one of her goals.
Janet's artistry is expressed through the manipulation of various media. She enjoys the evolution of creativity that comes from experimentation. She has learned to let playful results influence the next step and has discovered the joy of the 'unintended'.
| | |
| --- | --- |
| Chatting with Benicia's Poet Laureate Johanna Ely | Chatting with a guest |
| Introduction by Napa County Poet Laureate, Beclee Wilson | Sharing our process of creating the duets |
---
March 26- May 15, Art & Poetry Exhibit: Fairfield Town Center; FSVAA Gallery, Fairfield, CA
Poet, artist collaborate on book, paintings, poems

By Amy Maginnis-Honey | April 15, 2016 The Daily Republic

FAIRFIELD — The trust between poet Suzanne Bruce and artist Janet Manalo is built on a strong foundation.

The two met in a yoga class in 2005. They published their first book a few years later. Their second, "Her Visions, Her Voices," was released last year.

A sample of the work featured in the book is on display at the Solano Town Center gallery. Bruce and Manalo work under the moniker Ekphrastic Expressions, derived from the Greek word, ekphrasis, which means a description.

The most common question the artist partners get is pretty much, "Which came first? The chicken or the egg?" Sometimes it's the poem, sometimes it's the artwork. And, at least once, it's been an otherworldly source when both came up with the word "Midnight" in a matching poem and painting.

A lot of time and detail was put into the exhibit as well as the book, Manalo and Bruce said. Sometimes the pair walked away from the book for a brief period, trying to ponder placement.

"Everything had to feel right," Bruce said. "It had to feel like it was a package."

It's similar to how they work together as artists, too. Manalo will often give Bruce a completed piece of artwork. It stays at Bruce's house and serves as her inspiration.

"I eventually live with it," Bruce said.

There are times both are working on something, but they are never on the same plateau, Manalo said. Bruce said most poems go through 15 or 16 revisions. "They have to evolve as well," she said.

Both are encouraged to see today's youth picking up poetry, particularly slam poetry. They took their first book to the state fair and got interesting questions from youth, Bruce said. They want young people to know that it's OK to break the rules.

"Find something that inspires you," Bruce advises youth. "Don't write it with the intention of how your poem will end. Just write."

The women try to get together at least once a month to explore ideas for collaborations. "It's wonderful working with Suzanne," Manalo said. "I'm grateful for her friendship." "I ditto all of that," Bruce said.

---
Suzanne Bruce and Janet Manalo have collaborated to create these books, honoring the ancient form of ekphrasis. Their innovative approach to poetry inspired by art is an ongoing process. In addition to these publications, the women exhibit their combined works in libraries and other public venues, reviving awareness to ekphrastic expressions.
---
Voices Beyond the Canvas: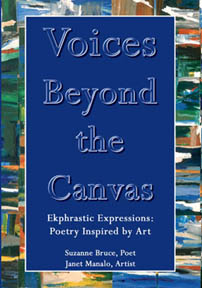 "Enter into this wild garden of a book through the gate left open. Meander along the paths of creative birth and blossoming as these two artists, painter and poet, explore and personalize the time-honored tradition of ekphrastic art. Pick it up often to share in their eclectic expressions of joy, intellect and openness to life."
Aleta George, columnist for Bay Nature magazine

"With their first book, Voices Beyond the Canvas, Suzanne Bruce and Janet Manalo combine creative forces, producing a powerful and moving tribute to the human spirit. Always open and revealing, the authors' words and art chronicle their evolution as Ekphrastic artists. Readers will be stirred by the evocative images and, as designed, find it difficult to separate the poetry from the art pieces. The authors successfully demonstrate the beauty of Ekphrastic art, and enhance the work by including glossaries and a brief history of the Ekphrastic art movement."
Teresa L. Jacobsen, Librarian, Solano County Library, CA

"This is poetry and art which springs out of an uncommon vision of nature. There is an energy that informs in these poems and paintings; a questioning and discovery, about what is observable and what persists. With clarity and craftsmanship, the artist and the poet lead the reader to see and understand the beauty they find in the world."
George Stratton, Instructor, Napa Valley Community College, CA
2017

September 26, Connecting Your Inner Muse Through Art & Poetry, Jessel Gallery, Napa

May 7, Ekphrastic Poetry, Benicia, CA

April 22, Art & Poetry on eARTh Day !, DaDas Art Gallery Boutique, Folsom, CA

January 13-Feb.25, The Art of Ekphrasis, Blue Line Arts, Roseville, CA

2016

October 1-30, Art & Poetry Exhibit, Saint Helena Public Library, Saint Helena, CA
June 26, Poetry & Prose Open Mic, 3-5 pm; Hill Family Estate Winery, Yountville, CA
May 2, Art & Poetry Presentation, Trilogy Art Guild, Rio Vista, CA
April 24, Art & Poetry "Chat"; 3-5 pm; Fairfield Town Center; FSVAA Gallery, Fairfield, CA
March 26- May 15, Art & Poetry Exhibit: Fairfield Town Center; FSVAA Gallery, Fairfield, CA
March 18, Book Promotion; 11:30-1:00, Women's History Luncheon, Nelson Community Center, Suisun, CA
March 7, Book Chat; Fairfield Twilight Rotary, Fairfield, CA

2015


Publish "Her Visions Her Voices"

2014


Vision of the Wild, VallejoCommunity Arts Foundation
~~~~~~~~~~~~~~~~~~~~~~~~~~~~~~~~~~

2011

Barton Gallery, Sacramento
Colors of the Carquinez, Crockett, CA
Sutter West Medical Clinic, Davis, CA
~~~~~~~~~~~~~~~~~~~~~~~~~~~~~~~~~~


2010


Ledgewood Creek Winery, Suisun Valley, CA
Art Passages-Mixology, Martinez, CA
ArtisTree: Artists Celebrate Trees, Davis, CA
Poetry in the Park, Fairfield, CA
MungBeing Magazine
~~~~~~~~~~~~~~~~~~~~~~~~~~~~~~~~~~

Fairfield City Gallery
St. Helena Public Library
Vacaville Art Gallery, Art & Poetry, Shared Voices
MungBeing Magazine
~~~~~~~~~~~~~~~~~~~~~~~~~~~~~~~~~~


2008

2007

MungBeingMagazine
Fairfield Arts Gone Wild, Gala Event
Elk Grove Artists, Elk Grove, CA
~~~~~~~~~~~~~~~~~~~~~~~~~~~~~~~~~~~~


Cafe Arrivederci, San Rafael, CA
Sacramento Book Collectors, Carmichael, CA
California State Fair, Sacramento, CA
Solano County Library Foundation, Vallejo, CA
Solano County Government Center, Fairfield, CA

Fairfield Cordelia Library Grand Opening, December 2006
Fine Arts Building, Solano County Fair, Vallejo, July 2006






Art Explosion, Fairfield, CA

Summer Wind Gallery, Isleton, CA

Saturday in the Park, Vacaville, CA

Recipients of two Cultural Arts Award Grants
City of Fairfield, CA
2007-2008; 2006-2007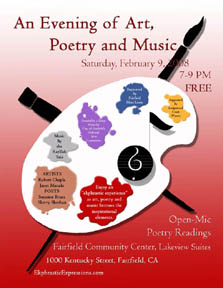 February 9, 2008
An Evening of Art, Poetry & Music

Art, poetry and music became the inspirational elements for creativity during this interactive event held on Saturday, February 9th in the Lakeview Suites at the Fairfield Community Center in Fairfield, California.

It was hosted by local poet Suzanne Bruce and artist Janet Manalo, authors of "Voices Beyond the Canvas," and included poetry by Sherry Sheehan and art by Robert Chapla, authors of "Across Currents." Music was provided by the Ray Zak Trio, local jazz musicians.

The four featured artists shared the creative processes that have led them in their collaborative efforts. Rekindling interest in ekphrasis (poetry inspired by art) with their unique and varying styles of art and poetry, they demonstrated the richness of combining the verbal with the visual. The audience viewed artwork, listened to poetry, enjoyed music, and shared their own expressions during an open-mic session.

This free event was funded in part by a grant from the City of Fairfield Cultural Arts Award Program and supported by the Fairfield Host Lions and Ledgewood Creek Winery.
Comments made that evening:
"WOW - what a great way to display art and a fun way to get the audience actively involved." Greg
"This is a wonderful event...it is a fresh way to exhibit art and poetry together." Lenice
"I didn't know what to expect, but I love what you all have done. The atmosphere is so comfortable." Lena
"I've never seen anything like this in Fairfield;when are you going to do this type of event again?" Teresa
Comments later via email:
"...a lovely, warm inviting exhibit and reading. The use of music with your poems was inspiring." Maria
"What a wonderful evening-thank you both for your amazing creativity and your generosity in sharing it with the community and sharing the stage with so many other talented people. The bright underbelly of Solano County." Pam
---
The event was well attended, with people ranging in ages from 10 to 70. Poets were inspired to write spontaneously, young poets were encouraged to share their poetry, artists and musicians sought out new opportunities to work together, new ekphrastic experiences arose, and new poets discovered their voices for the first time.

2011 Copyright © Notice: Material on this website is protected by copyright; contact poet for permission to use poetry.